One in four people, that's a quarter of us, will at some time experience mental health problems during their life.  It's an astounding statistic from the World Health Organisation and according to a report by Mind there has been an increase from 15.5 per cent in 1993 to 26 per cent of adults reported having ever been diagnosed with at least one mental health problem in 2014.  Many mental health problems including OCD, self-harm, eating disorders, insomnia and many physical problems are anxiety related, so why is anxiety increasing so rapidly.
Modern Life
One argument backs modern life as a main culprit, challenging our primitive blueprint to cope with the unprecedented rapid changes to how we were designed to live.
Compare the fundamental differences between now and how our primitive ancestors are likely to have lived.  Primitive man and woman would have had to go out hunting and gathering, they would have lived in close tribal groups and continued existence would have depended on their belief in success out hunting that day, sharing the spoils and co-operating as a tribal group. This would have been the status quo from the emergence of modern humans five hundred thousand years ago, right up until the industrial revolution just two hundred year ago, so what changed?
Significantly along with the industrial revolution in Victorian times came a structural shift in how we lived.  People started migrating from their close nit rural communities to cities, causing a swing in mindset from the good of the community to the 'self' resulting in a weakening of the tribal support structure.  Compare that to today's living, in primitive times, being isolated from the tribe would have meant certain death, but today you can live in a major city never meeting your neighbours and you don't even need to go out to seek out food, you can have it delivered to your cave entrance.  But perhaps crucially the focus turned inwards to the 'self' from an outwards thinking tribal centred awareness and life became 'all about me'.  This is important, particularly for anxiety because when you have the support, physically and mentally of the tribe, all sharing in the provision of safety, subsidence and shelter, basic human needs, the constant vigilance and struggle to survive is disseminated.  However, today's autonomous living increases the individual risk and responsibility and for an increasing number of people, despite the social safety nets in place in the Western world, the feeling of insecurity and imagined crisis, emergency or danger is heightened.
Media
Media and marketing, including social media and smart phones or devices are all bombarding us with information 24/7.  Although you may not consciously tune in to everything you're expose to, your subconscious will absorb much more than you realise.  The news, social media newsfeeds, TV and advertisers are all getting direct access to our brains because we're allowing it.  These days even work emails and messages have access 24/7 and our brain is constantly on alert, monitoring devices that might need our attention.  Of course, they also enhance our life and keep us connected in a health way, but the indiscriminate penetration of information could be causing our brain to believe there is a constant crisis to deal with. 
Nature/Nurture
The nature vs nurture question is no longer an either/or, it's a bit of both.  Studies have shown an element of anxiety and depression to be hereditary, but not a foregone conclusion, a larger element influencing the likelihood of developing these conditions is down to learning and lifestyle.   This is frequently evident in clinic where clients come for help with anxiety with an anxious or 'worrier' parent and an assortment of mental health disorders are prevalent throughout the family.  A portion of our ten billion brain cells are of a type called 'mirror neurons' and they learn by mimicking the behaviours of people around them and much of this learning occurs in childhood, so if children grow up in a household of people who express themselves in a negative way, they will also grow up defaulting to negative thought patterns with each generation pass it on. 
How we can reverse this trend
The good news is that our brain also has an amazing capacity to reorganise how the cells are organised, it's a quality called 'plasticity' which means we do have the ability to change how we think.  Combine this with awareness and understanding of our mind and a healthy diet and lifestyle that emulates how we were originally designed to live, with positive activity, positive interaction and positive thinking, then add some boundaries around what we are allowing into our life and mind through the devices we carry and we can reverse the trend and reduce the irrational negative forecasting, worrying and what if-ing which creates the anxiety by stimulating the flight/fight systems in our body and mind.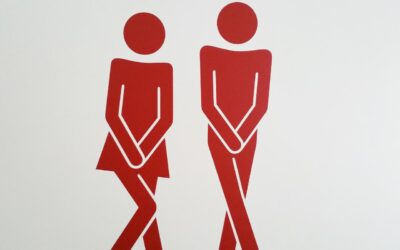 Do you suffer from an anxious bladder? Do you opt out of activities because you fear not being able to find a toilet in time? This video explores why this happens and how Hypnotherapy can help.
read more