Thanks for Following Me on Twitter

Download Free Hypnotherapy CD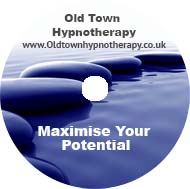 Maximise Your Potential is particularly helpful for people suffering from anxiety and/or depression and for people with associated symptoms which could be anything from OCD, Anger and Eating Disorders to IBS, Social Anxiety and Insomnia. 
As with any hypnotherapy tracks, you need to listen regularly.  The changes happen over time, not over night, although you will feel better after every listen, even the first one.  With any habit you want to develop, you need to practice regularly, your brain is no different – so play daily, with an open positive mind and notice the difference.
---
Plus BONUS Gifts when you download the MP3
– 

FREE

 Hypnotherapy or Guided Meditation MP3s every month
– 
Weekly

 Self Help Tips and Advice for Anxiety, depression or related issues
– 
Monthly

 subscription to 'A User's Guide to the Brain' which features:-


How To Stay Mentally Fit & Healthy
jjj
How to avoid the symptoms of Anxiety or Depression
Monthly focus – an in depth look a particular Issues or problems, eg. Sleep, Motivation, Anxiety disorders, Fears/Phobias
Exclusive Free Hypnotherapy Downloads
Confidentiality, client relations and privacy are very important to us so we will never share your details with anyone else and you can unsubscribe any time you like.
You will now directed to the page where you can 
instantly

 download your CD absolutely FREE.

Everything is shared with you in mind and to help you work towards living a happy, calm, motivated, stress free life where YOU are in control.  This hypnotherapy track is hugely useful, it can help you sleep better at night, aid relaxation and help you to make those first steps to resolving your issues.  However, it is not meant as a complete solution for whatever is troubling you – a FREE Initial Consultation at Old Town Hypnotherapy at one of our branches will help you to work out your next step to a happy, calm, motivated, stress free life where YOU are in control.