Download 'Boundaries' Hypnotherapy CD FREE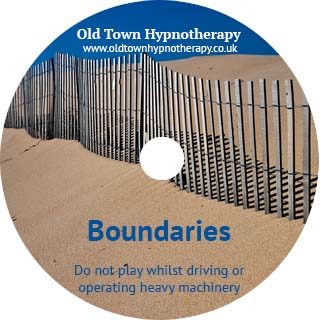 Boundaries is helpful if you often feel taken advantage of by other people or you worry how other people think about you.
Plus BONUS Gifts when you subscribe
– 

FREE

 Downloadable Hypnotherapy or Guided Meditation CD every month
– Weekly articles on how to help Motivation, Anxiety, depression and related issues
– Invites to On-line Guided Mindful Meditation events
– Monthly subscription to 'A User's Guide to the Brain' completely free which features:-
Guide on How To Stay Mentally Fit & Healthy
Practical suggestions of how to avoid the symptoms of Anxiety or Depression
Monthly focus – a more in depth look a particular Issues or problems, e.g. Sleep, Motivation, Anxiety disorders, Fears & Phobias etc
Exclusive Offers and Discounts
News and Updates from Old Town Hypnotherapy
Links to interesting articles and sites.
Everything is shared with you in mind and to help you work towards living a happy, calm, motivated, stress free life where YOU are in control.  Confidentiality, client relations and privacy are very important to us so we will never share your details with anyone else and you can unsubscribe any time you like.
[mc4wp_form id="1563″]
You will now directed to the page where you can 
instantly

 download your Boundaries CD absolutely FREE.

This hypnotherapy track is hugely useful, it can help you sleep better at night, aid relaxation and help you to make those first steps to resolving your issues.

However, it is not meant as a complete solution for whatever is troubling you – a FREE Initial Consultation at Old Town Hypnotherapy at one of our branches or by Skype will help you to work out your next step to a happy, calm, motivated, stress free life where YOU are in control.