Old Town Hypnotherapy Swindon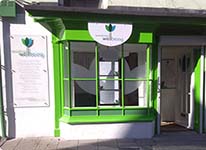 Wood Street Wellbeing
10 Wood Street
Old Town
Swindon
SN1 4AB
Wood Street is situated in the heart of Old Town, there is 1 hour parking on Wood Street, but we would advise you park close by near the Co-op and walk through to Wood Street.
Emma Triplett
DHP, HPD, AfSFH, MNCH(Reg)
Emma founded Old Town Hypnotherapy in 2011 before going on to establish the practises in Brighton & Hove, Bristol, Exeter and Plymouth.  She is an experienced professional hypnotherapist and the author of the best selling book in it's category on Amazon 'Stepping Out Of The Cloud', You can beat depression this is how.
Emma specialises in depression and has written and produced the online interactive courses as well as the ebooks.
Emma runs the group courses in Swindon for:
Weight Loss
Anxiety & Depression
Anger
Emma, as with all Old Town Hypnotherapy therapists, trained at the Clifton Practice in Bristol in Solution Focused Hypnotherapy.
Emma is a member of the National Council for Hypnotherapists (MNCH(Reg)) and the Association for Solution Focused Hypnotherapy and is bound by their code of practice. Emma maintains full Public Liability and Professional Indemnity Insurance.
---
"Before my weekly visits with Emma i was suffering horrendous panic attacks was incredible depressed was on a lot of medication and i hadn't slept through the night for well over 7 months.  The sessions were so relaxing and left me feeling full of energy after every visit, my friends and family noticed the dramatic difference in me very quickly. I now no longer take any medication and sleep like a baby.  My life is so positive now and I have fulfilled 2 goals already after only 4 months from the end of my sessions that I don't recognise the person I was before I went to see Emma, she truly is amazing." Stella
*Results may vary from person to person