Old Town Hypnotherapy Swindon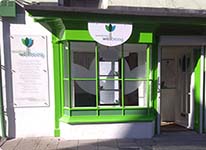 Wood Street Wellbeing
10 Wood Street
Old Town
Swindon
SN1 4AB
Wood Street is situated in the heart of Old Town, there is 1 hour parking on Wood Street, but we would advise you park close by near the Co-op and walk through to Wood Street.
Jan Taylor
DHP, HPD, AfSFH, MNCH(Reg)
Before becoming a Hypnotherapist, Jan worked as a classical guitar teacher and was always interested in getting the best out of people and giving them a good self image and confidence.
Jan, as with all Old Town Hypnotherapy therapists, trained at the Clifton Practice in Bristol in Solution Focused Hypnotherapy and, although Jan is qualified and experienced in all the conditions we help with, Jan particularly enjoys working with anxiety and depression disorders, confidence and insomnia.
Jan is a member of the National Council for Hypnotherapists (MNCH(Reg)) and the Association for Solution Focused Hypnotherapy and is bound by their code of practice. Jan maintains full Public Liability and Professional Indemnity Insurance and has been DBS checked.
Save
---
Mark Taylor
AfSFH
For a Limited time only ….
Mark is our most recent hypnotherapist to join us at Old Town Hypnotherapy and although has completed all the necessary training to start practising for the final submission of his portfolio he is looking for case studies.
Of course this is completely confidential and your identity is not discussed, but if you are interested in being a case study for Mark in return for half price sessions, please request Mark when arranging your FREE initial consultation.
Formally from New Zealand, Mark brings a laid-back Kiwi approach to his sessions. He was inspired to become a hypnotherapist after seeing his wife Jan change peoples' lives with solution-focused hypnotherapy.
Mark is a member of the Association for Solution Focused Hypnotherapy and is bound by their code of practice. Mark maintains full Public Liability and Professional Indemnity Insurance.
Save
Having been someone that has suffered from deeply negative thinking, overthinking and bouts of anxiety for many years, it is a way of life that I started to accept as normal. It was affecting me more than I had the heart to tell people.
The decision to see Mark was one that thankfully put an end to that seemingly endless negative cycle. Mark taught me that this was a feeling I didn't have to accept, but was instead something I could put an end to with the right approach. The sessions with Mark were something I looked forward to, his incredibly friendly and understanding attitude helped me immensely and I started to see a difference almost immediately. This is what most surprised me, the immediacy of this impact, of dealing with my negative state of mind through relaxation and positive thinking. Not only do I feel more positive, but I've started seeing big changes in my life, in work, relationships and my mental wellbeing, the latter being something I neglected for too long. I honestly can't thank Mark enough for his help.
The nicest thing for me is that I continue to see improvements everyday, and this is a way of thinking that has benefits I'm still discovering. Thank you Mark.
Sam, Swindon
Book a Free Initial Consultation with Jan or Mark in Old Town in Swindon
*individual results may vary, please see our disclaimer page for further details
Save